BLOODY RIVERS RERUN: Finally, Nigerian Army Reacts To Allegations of Killings, Arrest During Election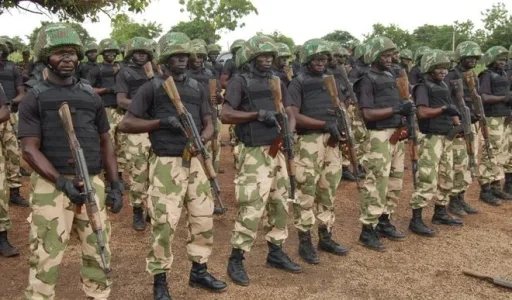 The Nigerian Army on Sunday denied reports of killing of some people and mass arrest during Saturday's legislative re-run election in Rivers.Maj.-Gen. Kasimu Abdulkarim, the General Officer Commanding (GOC), 6 Division, Port Harcourt, denied the reports in a statement issued in Port Harcourt.


Abdulkarim also denied claims that the army connived with some politicians to influence the outcome of the just concluded legislative elections in the state.

"The allegation that soldiers carried out killings and mass arrest in Tai and Gokana Local Government Areas during the legislative rerun election is false.

"In addition, the allegations made by some respected politicians regarding deep involvement of soldiers during the elections were aimed at tarnishing the positive image of the army.

"These people [politicians] allegedly accused soldiers of snatching ballot boxes, illegal escort of some politicians and arrest and detention of voters during the elections which is totally untrue.

"Members of the public should consider these weighty accusations that present soldiers in a negative manner as mere farce to garner public sympathy," he said.

Abdulkarim said that soldiers only provided security at the outer perimeter of designated collation centres and polling booths without getting directly involved with the elections.